Larson Davis
---
Larson Davis manufactures a wide range of Sound Level meter to meet all your measurement needs.
The latest SoundAdvisor Model 831C Sound Level Meter is designed to make noise measurement easy. Due to its color display, connectivity, extensive software features and small form factor the SoundAdvisor is an ideal choice for handheld operation. Attended measurements are simplified, with the ability to control and monitor data via any PC or mobile device with a standard web interface. Designed with the acoustic professional in mind, the SoundAdvisor offers an elegant solution for complex needs in an easy to use system.
Spartan 730 / 730IS - The Spartan Series of Wireless Noise Dosimeters offers both standard and Intrinsically Safe units to meet the needs of your application.
Spartan Noise Dosimeters can be controlled directly from your mobile device and are used by Industrial Hygienists, EHS Consultants, and Safety Managers around the globe. The wireless Spartan Noise Dosimeter Model 730 / 730IS offers faster, easier measurements via reliable hardware and the user friendly LD Atlas™ app. All essential measurement tasks, from test setup to sending reports, can be done from your mobile device.
Environmental Noise Monitoring Systems
The Larson Davis NoiseTutor is an integrated solution, ideally suited to address the challenges of remote noise monitoring in an efficient and cost effective package.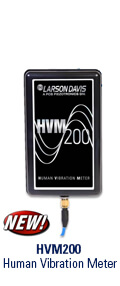 Introducing the HVM200 Human Vibration Meter
The HVM200 is a small rugged vibration meter with built in Wi-Fi that can be used to measure hand-arm, whole body and general vibration. It includes the metrics and frequency weightings needed to measure human vibration. This 3 channel meter meets the requirements of ISO 8041:2005 and it is designed to measure per ISO 2631-1, 2 & 5 and ISO 5349 in support of the American Conference of Governmental Industrial Hygienists (ACGIH) Threshold Limit Values (TLVs) and the directive 2002/44/EC. This makes the HVM200 an ideal choice for an instrument used to demonstrate compliance with human vibration requirements and regulations worldwide.
Larson Davis audiometer calibration systems combine the speed and power of the System 824 real time analyzer with the sophisticated, yet user-friendly, AUDit™ software. Standard audiometer specification tests can be performed manually or under computer control with greater ease than with any other system.